Accreditation Guides
These guides suggest ways for institutions to incorporate CCSSE into regional accreditation processes, far beyond simply mentioning CCSSE as an element of a college's systematic assessment activities. Each guide is intended to be just one of many approaches to mapping student engagement results to correlating accreditation standards. Please also keep in mind that CCSSE findings may be used to support and document institutional improvement efforts, but will be most meaningful when coupled with direct measures of student learning outcomes.
To learn more about how member colleges are utilizing CCSSE in the accreditation process, go to CCSSE in Action: Institutional Examples.
To view a CCSSE accreditation guide, please select a state on the map below or a region name in the map's legend.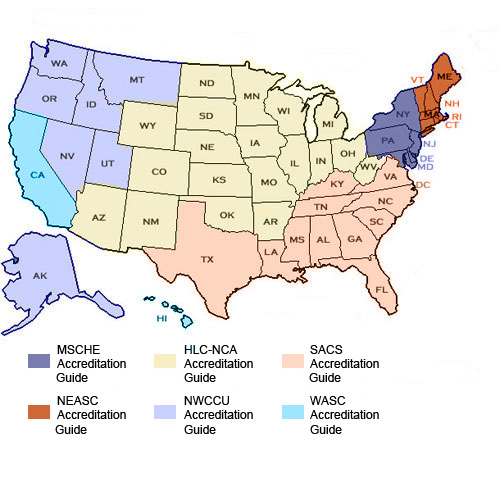 All guides updated 03/05/2010 for edits throughout and to reflect NWCCU's 2010 criteria revision.
How is your college using CCSSE results?

Share your college's story on how you've used Center data to strengthen student engagement and improve student success. Visit our Engagement in Action site to submit your vignette!