Join the Community College Completion Commitment!
Overview
Participants
Resources
Related News Stories
Overview
The Center for Community College Student Engagement joined five other influential community college organizations in signing a commitment to boost student completion rates by 50% over the next decade at the closing of the 2010 American Association of Community Colleges (AACC) Convention. Fellow signatories include AACC, the Association of Community College Trustees (ACCT), the League for Innovation in the Community College, the National Institute for Staff and Organization Development (NISOD), and the Phi Theta Kappa Honor Society.
The pledge states an ambitious goal for the community college field: producing 50 percent more students with high quality degrees and certificates by 2020, while increasing access and quality. It asks community college leaders, faculty, and staff "to identify ways to help students understand the added value of degrees and certifications, and to help them progress toward their goals." The pledge calls upon elected officials "to create the policy conditions that engage, support and reward community colleges in their work to strengthen student success."
The Center endorses this public pledge as a way to bring the "completion agenda" to the forefront of community college work, encouraging institutions to shift their focus to encompass both access and student success.
To assist community college leaders in accepting the completion challenge for their institutions, AACC and ACCT have provided a draft template (below) that can be adopted, adapted, or used in other ways. Please keep us informed of any action your college takes to accept the completion challenge, as this information will be valuable to all organizations involved.
Sample completion template for community colleges
To see a list of participating institutions, visit AACC's website featuring the College Completion Challenge.
Participants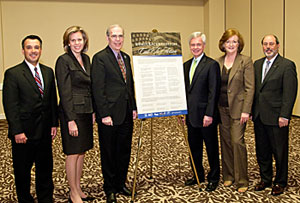 Photo Credit: American Association of Community Colleges
Resources
Related News Stories