The Center's Mission
The Center for Community College Student Engagement, a research and service initiative of the Program in Higher Education Leadership in the Department of Educational Administration in the College of Education at The University of Texas at Austin, provides important information about effective educational practice in community colleges. The Center assists institutions and policymakers in using information to promote improvements in student learning, persistence, and attainment.
Surveys & Related Projects
The Center conducts a collection of national surveys:
The Center also operates several related initiatives.
Quick Links
Here are some other links you might find helpful:
To learn more about the Center, please feel free to give us a call at 512-471-6807.
See more video clips on the Center's YouTube Channel.
Check out the spring edition of Engagement Matters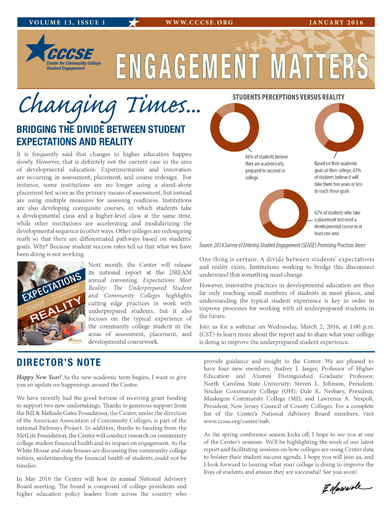 Engagement Matters is the Center's venue for providing project updates, previewing survey and focus group findings, and highlighting member college stories. This issue of Engagement Matters offers all of the above!
Registration Now Open for Fall 2016 Entering Student Survey
Registration for the 2016 Survey of Entering Student Engagement (SENSE) is currently underway. The Center invites community and technical colleges to participate and gain valuable insight into the entering student experience.
Data from SENSE provide a view into students' crucial first steps on their path to success in the college. If you would like more information about this survey or how it ties in with the Center's other work, please contact info@cccse.org.
Increasing Student Success Through Improved Financial Health
The Center, working alongside existing MetLife partners, has received a MetLife Foundation grant to expand upon emerging knowledge about community college financial health—and gain new knowledge about the impact that financial health has on student engagement, a key indicator of student success and retention. The Center will conduct research—through the development, administration, and reporting of survey items—intended to assist the diverse community college student population and the leaders, faculty, and staff of community colleges as they work toward implementing policies to ensure that students with low financial education are successful. This new project builds upon the Center's Student Voices: Financial Vulnerability and Other Factors in Community College Students' Access and Success, part of ongoing work of the Initiative on Student Success.
The Pathways Project - Guiding Students to College Completion
Implementing guided academic and career pathways at scale—for all students—is the shared commitment of 30 colleges selected, through a highly competitive national process, to participate in the Pathways Project led by the American Association of Community Colleges (AACC).
Read More...
The Center is part of the national partnership, which is focused on building capacity for community colleges to implement a pathways approach to student success and college completion. Partners are Achieving the Dream, Inc., the Aspen Institute, Community College Research Center, Jobs for the Future, the National Center for Inquiry and Improvement, and Public Agenda. These organizations have participated actively in the college selection process and also are substantively involved in designing and delivering a model series of six two-day institutes, each focusing on key elements in a fully scaled pathway model for community colleges. The Project is funded through a $5.2 million grant from the Bill & Melinda Gates Foundation.
Close
The Center Responds to the WalletHub.com Article Ranking Community Colleges
In response to the recent publication of a WalletHub.com article by Richie Bernardo and the website's purported rankings of U.S. community colleges, the Center for Community College Student Engagement once again confirms two longstanding policies: commitment to public reporting of survey results and opposition to the use of those results in ranking colleges.
Read More...
The article includes multiple errors of fact and misuses of survey data. It incorrectly labels and describes the category including Community College Survey of Student Engagement (CCSSE) benchmark data as "Classroom Experience." In reality, CCSSE benchmarks measure student behaviors both inside and outside the classroom, as well as institutional practice. A larger issue is that the reporter uses CCSSE benchmark data from different years as if the data were equivalent and directly comparable. This is simply not mathematically or statistically correct, as each year of reported data is standardized based upon the most recent three-year cohort of participating colleges. And finally, while it is true that the vast majority of U.S. community colleges are participants in the Center's surveys, the Wallethub ranking leaves out more than a third of the community colleges in the country due to missing data. To single out for condemnation colleges that invest in assessing the quality of students' educational experiences and agree to have those data publicly reported is surely to aim criticism in the wrong direction. At no time did the reporter contact the Center for Community College Student Engagement, a simple act that would have made clear the problems regarding CCSSE data in his article.
WalletHub.com's rankings in large part were created through misuse of data drawn from the CCSSE website that were combined with other data likely from different timeframes. The ranking method thus is based on an illogical calculation combining CCSSE results and other data. There are so many things about this approach that are statistically inappropriate that it is impossible to overstate how spurious the results really are.
The Community College Survey of Student Engagement was developed in 2001 to provide information about effective educational practice in community colleges and to assist institutions and others in using that information to promote improvements in student learning, persistence, and attainment. From the beginning, the Center has been committed to the public reporting of survey results, a practice for which the organization and community colleges participating in the surveys have been widely praised. Public reporting is a significant benefit to the colleges because it supports benchmarking of effective educational practice; in addition, by their participation in CCSSE, hundreds of community colleges every year demonstrate their commitment both to transparency with regard to institutional performance and to accountability for improvement of educational quality.
The Center's website has long displayed this statement:
"CCSSE opposes using its data to rank colleges. Each community college's performance should be considered in terms of its mission, institutional focus, and student characteristics. Because of differences in these areas—and variations in college resources—comparing survey results between individual institutions serves little constructive purpose and likely will be misleading."
[CCCSE's Policy Statement on Responsible Uses of Survey Data is displayed at http://www.ccsse.org/datapopup.html]
The one general point on which the Center and WalletHub can agree is the critical importance of community colleges' work across the nation to serve a remarkably diverse student population at significantly higher levels of effectiveness. Unfortunately, it is difficult to see how its uses of data and the rankings contribute anything constructive to that work.
Contact: Evelyn Waiwaiole
Director, Center for Community College Student Engagement
E-mail: waiwaiole@cccse.org
Close
Center Releases New Report Highlighting a Decade of CCSSE Data
Engagement Rising: A Decade of CCSSE Data Shows Improvements Across the Board highlights results from CCSSE survey administrations from 2004 to 2014—and the findings show an unmistakable trend: consistent, continuous improvement in engagement. Student demographics were relatively stable across this time, so the progress is not likely related to who is attending community college, but is instead the result of intentional change in policy and practice.
Read More...
The report features the survey items that show the strongest improvements in student behaviors and experiences related to student success, paying special attention to gains made by full- and part-time students and non-developmental and developmental students.
View a recording of the special webinar on Engagement Rising that Center Director Evelyn Waiwaiole and staff conducted.
Please also see the related news release.
Close