The Center's Mission
The Center for Community College Student Engagement, a research and service initiative of the Community College Leadership Program in the College of Education at The University of Texas at Austin, provides important information about effective educational practice in community colleges. The Center assists institutions and policymakers in using information to promote improvements in student learning, persistence, and attainment.
Surveys & Related Projects
The Center conducts a collection of national surveys:
The Center also operates several related initiatives.
Quick Links
Here are some other links you might find helpful:
For more information about Center projects, select one of the tabs in the upper-left corner of the website.
See more video clips on the Center's YouTube Channel.
Center Releases Report Identifying High-Impact Practices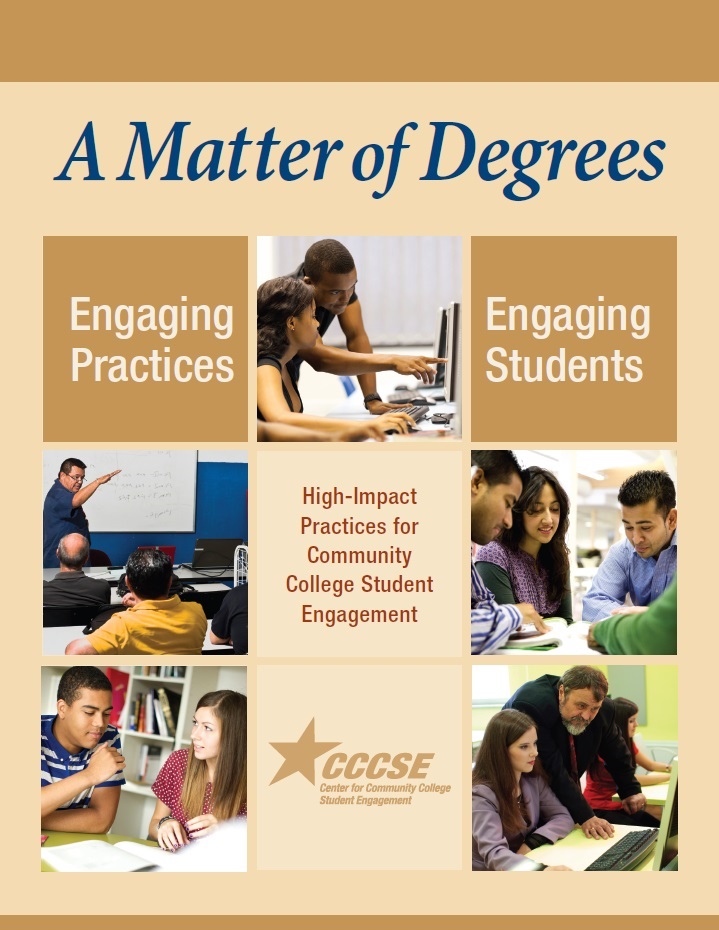 A Matter of Degrees: Engaging Practices, Engaging Students is the second in a three-part series to present key findings from a multi-year Center initiative—Identifying and Promoting High-Impact Educational Practices in Community Colleges—and describes the relationships between students' participation in particular practices and their levels of engagement in college.
The report brings together survey responses from entering students, experienced students, faculty, and institutions. Data sources include results from recent administrations of the Survey of Entering Student Engagement (SENSE), Community College Survey of Student Engagement (CCSSE), and Community College Faculty Survey of Student Engagement (CCFSSE); the SENSE and CCSSE 2012 special-focus items on promising practices; and findings from the Community College Institutional Survey (CCIS).
Please also see the related news release.
CCIS and Companion Discussion Guide
The Community College Institutional Survey (CCIS), the Center's newest instrument, was developed to complement ongoing national work on identifying and promoting high-impact education practices in community colleges. A new companion piece, the CCIS Discussion Guide, is intended to help colleges that have administered the CCIS facilitate conversation among campus constituents and to deepen the understanding of high-impact practices at individual institutions.
Access to the CCIS, along with the discussion guide, is now available free of charge.
The Center's work on identifying and promoting high-impact practices has been generously supported by Bill & Melinda Gates Foundation and Lumina Foundation.
Center Director Kay McClenney Announces Retirement
A Message From Center Staff
Since founding the Center for Community College Student Engagement in 2001—and for decades before that—Kay McClenney has worked tirelessly to promote data-driven institutional change in the nation's community colleges. Kay is widely known for her mantra of "students don't do optional," an embodiment of her commitment to and passion for making engagement inescapable for students. Among her most notable accolades was the 2011 Leadership Award from the American Association of Community Colleges. She recently has served as co-chair of AACC's 21st Century Commission on the Future of Community Colleges.
The Center staff looks forward to continuing and honoring her legacy, primarily to serve community colleges in helping more students attain their educational goals. Please read Kay's official announcement as well as a related joint statement from the College of Education and Department of Educational Administration at The University of Texas at Austin.
Register Now for Fall 2014 Entering Student Survey

Interested in learning more about students' earliest experiences in college and what may be impacting retention patterns? The Center invites community and technical colleges to participate in a national administration of its entering student survey. Registration for the 2014 Survey of Entering Student Engagement (SENSE) is currently underway.
Center Teams With NSSE on New Initiative: Engaging Latino Students
With support from The Kresge Foundation and Greater Texas Foundation, the Center and the National Survey of Student Engagement (NSSE) have joined with Excelencia in Education in a new project.
In this unprecedented endeavor, invited pairs of community colleges and baccalaureate institutions from urban areas will partner in work to strengthen Latino student engagement, transfer, and college completion. Each institution will send a team to an institute, where the institutional pairs will examine student cohort data and engagement survey data to create a concrete, collaborative action plan.