The Center's Mission
The Center for Community College Student Engagement, a research and service initiative of the Program in Higher Education Leadership in the College of Education at The University of Texas at Austin, provides important information about effective educational practice in community colleges. The Center assists institutions and policymakers in using information to promote improvements in student learning, persistence, and attainment.
Surveys & Related Projects
The Center conducts a collection of national surveys:
The Center also operates several related initiatives.
Quick Links
Here are some other links you might find helpful:
To learn more about the Center, please feel free to give us a call at 512-471-6807.
See more video clips on the Center's YouTube Channel.
Register Now for
Fall 2015 Entering Student Survey!
Interested in learning more about students' earliest experiences in college and what may be impacting retention patterns? The Center invites community and technical colleges to participate in a national administration of its entering student survey. Registration for the 2015 Survey of Entering Student Engagement (SENSE) is currently underway.
Check out the first Engagement Matters newsletter of 2015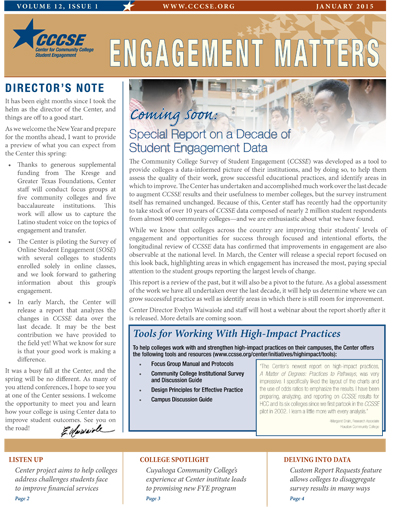 Engagement Matters is the Center's venue for providing project updates, previewing survey and focus group findings, and highlighting member college stories. This issue of Engagement Matters offers all of the above!
Center Project Explores Financial Vulnerability of Community College Students
A new Center project, Student Voices: Financial Vulnerability and Other Factors in Community College Students' Access and Success, is part of ongoing work of the Initiative on Student Success. To preview some of the findings from the project, please read "Speaking of Money: Students Share What They Need to Earn and Learn," which was recently published in Community College Week.
Center Releases Final Report on High-Impact Practices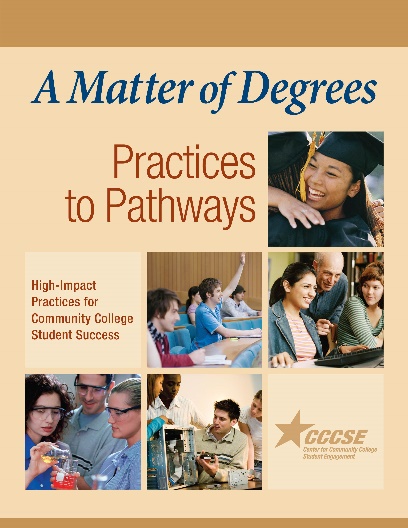 A Matter of Degrees: Practices to Pathways is the third report in a three-part series to present key findings from a multi-year Center initiative, Identifying and Promoting High-Impact Educational Practices in Community Colleges. The report describes relationships between selected student outcomes and student participation in high-impact educational practices. It also sets forth the critical next-level challenge in community college work: strengthening student success by identifying the educational practices that matter most and integrating them into intentionally designed academic and career pathways.
Read more...
The section of the Center website devoted to the high-impact practices initiative provides background, context, and resources to support colleges in this important work. These materials include key design principles for effective educational practice and a campus discussion guide to prompt thoughtful conversations about high-impact practices, whether already in place or under consideration. Pathway design resources are also available for colleges.
The Center's work on high-impact practices has been generously supported by Bill & Melinda Gates Foundation and Lumina Foundation.
Please also see the related news release.
Close