The Center's Mission
The Center for Community College Student Engagement, a research and service initiative of the Program in Higher Education Leadership in the College of Education at The University of Texas at Austin, provides important information about effective educational practice in community colleges. The Center assists institutions and policymakers in using information to promote improvements in student learning, persistence, and attainment.
Surveys & Related Projects
The Center conducts a collection of national surveys:
The Center also operates several related initiatives.
Quick Links
Here are some other links you might find helpful:
To learn more about the Center, please feel free to give us a call at 512-471-6807.
See more video clips on the Center's YouTube Channel.

Registration is Underway for Spring 2016 CCSSE Administration
The Center invites community and technical colleges to participate in the 2016 Community College Survey of Student Engagement (CCSSE). The survey provides information on student engagement by asking questions that assess institutional practices and student behaviors that are highly correlated with student learning and retention.
To learn more, review the various Membership Options and take a look at the survey instrument. Registration is open through October 31. Please contact the Center at info@cccse.org with any questions.
Center Releases New Report Highlighting a Decade of CCSSE Data
Engagement Rising: A Decade of CCSSE Data Shows Improvements Across the Board highlights results from CCSSE survey administrations from 2004 to 2014—and the findings show an unmistakable trend: consistent, continuous improvement in engagement. Student demographics were relatively stable across this time, so the progress is not likely related to who is attending community college, but is instead the result of intentional change in policy and practice.
The report features the survey items that show the strongest improvements in student behaviors and experiences related to student success, paying special attention to gains made by full- and part-time students and non-developmental and developmental students.
View a recording of the special webinar on Engagement Rising that Center Director Evelyn Waiwaiole and staff conducted.
Please also see the related news release.
Check out the first Engagement Matters newsletter of 2015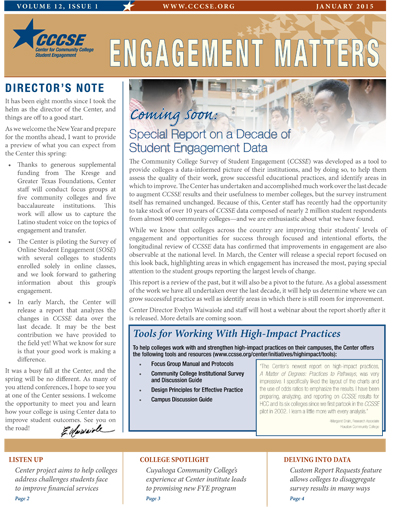 Engagement Matters is the Center's venue for providing project updates, previewing survey and focus group findings, and highlighting member college stories. This issue of Engagement Matters offers all of the above!
Center Project Explores Financial Vulnerability of Community College Students
A new Center project, Student Voices: Financial Vulnerability and Other Factors in Community College Students' Access and Success, is part of ongoing work of the Initiative on Student Success. To preview some of the findings from the project, please read "Speaking of Money: Students Share What They Need to Earn and Learn," which was recently published in Community College Week.